CWP Services
The features of our service
You can manage Retail Communication Providers (RCPs) and Access Communication Providers (ACPs) roles and End Users (EUs) on our secure platform. ACPs can manage products for resale by RCPs and share their coverage map with contracted RCPs. Its open API and web GUI are used for new orders & switch orders alike. RCPs can lookup products available to a Unique Property Reference (UPRN). The platform includes audit trails for all transactions and detailed reporting capabilities. Inherent in the OTS process is the safe and secure separation of gaining- and losing provider EU contract details. Incident management of CWP and orders, but also in-service faults and moves, adds, changes and deletes (MACDs) between retailer and wholesaler can be tracked. Billing for CWP membership are fully automated.
As an OTS Hub, the Gaining Provider can place service switch orders and the Common Wholesale Platform will carry out all messaging between Losing Provider (LP), Losing Access Provider (LAP), Gaining Access Provider (GAP) and the End User.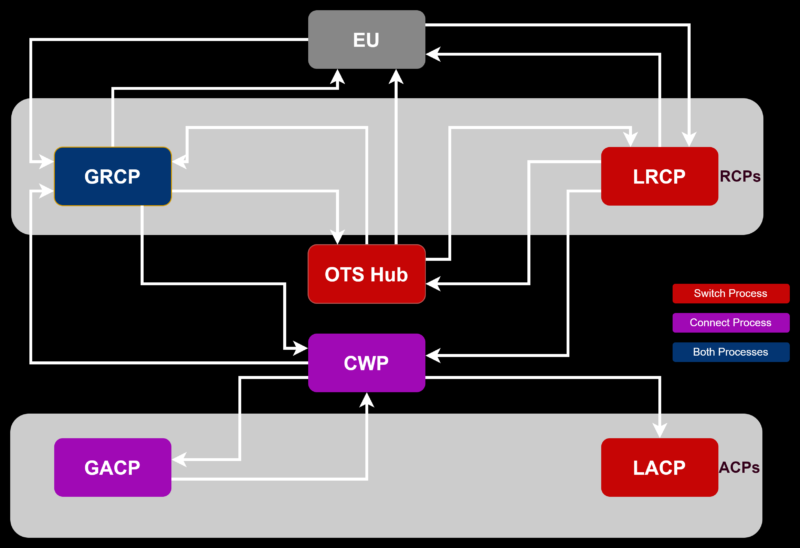 As a wholesale platform, the RCP can place a new service order and the Common Wholesale Platform will carry out all messaging with the Gaining Access Provider.
If you would like to find out more about our services, please head to our public knowledgebase articles. This is a subset of the articles that are available to our members.
Our pricing
The following fees apply if you are an ACP or a RCP. If you are both, you will subscribe to two accounts, as an ACP and as a RCP. The latter also helps with segragating your channel from your retail offering as both accounts are kept separate.
| Tier | Maximum Transactions | Setup | Monthly |
| --- | --- | --- | --- |
| Low | 100 | £200 | £100 |
| Medium | 500 | £350 | £300 |
| High | 5,000 | £1,000 | £2,600 |
| Special 1 | 10,000 | £2,000 | £2,600 |
| Special 2 | 20,000 | £2,000 | £4,000 |
| Special 3 | 20,000+ | £2,000 | £5,400 |